S&P 500 (SPY)
Stocks are going to try to pick up where they left on Friday, and that means moving higher for the week of April 14. The S&P 500 cleared a critical level of resistance last week, and now there is only one resistance zone in place before we approach an all-time high. That level comes at 2,915. A rise above that region sending the index on to 2,940. At this point, a push towards 3,000 is on.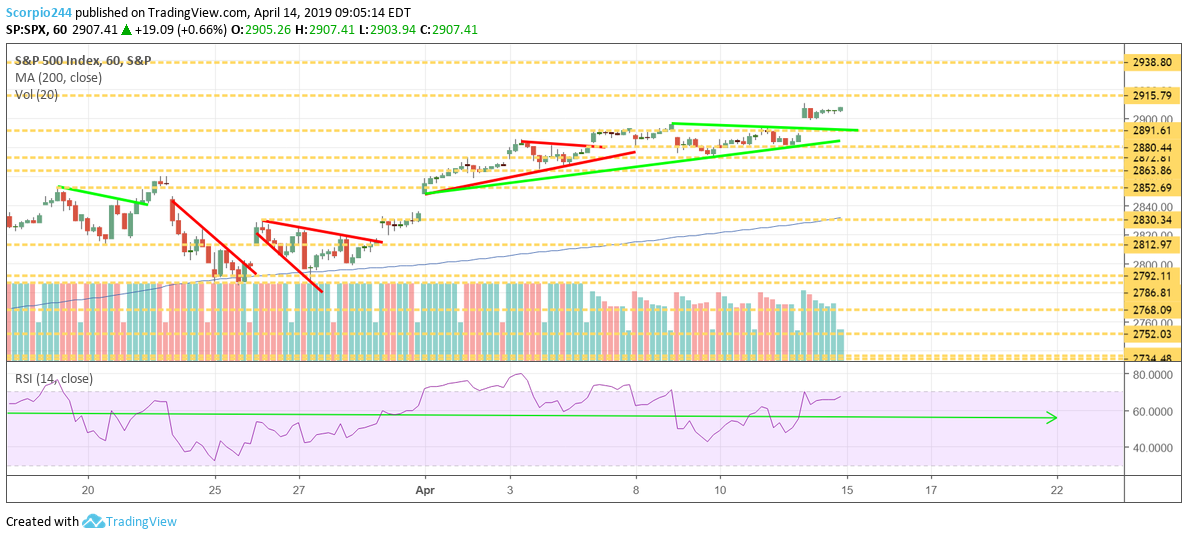 SPY
The Data
There will be plenty of news this week to help drive stocks higher that is for sure. Tuesday is the day that will likely make or break the market. It starts early that morning with the German ZEW survey, followed by US Industrial Production, followed by Netflix's results, followed by CHINA GDP.
Russell 2000, (IWM)
The Russell broke out of a big bull flag, and now it is about to break out of a minor bull flag. That means the index is likely going to continue to head higher, and I still think this index is moving higher towards 1,710.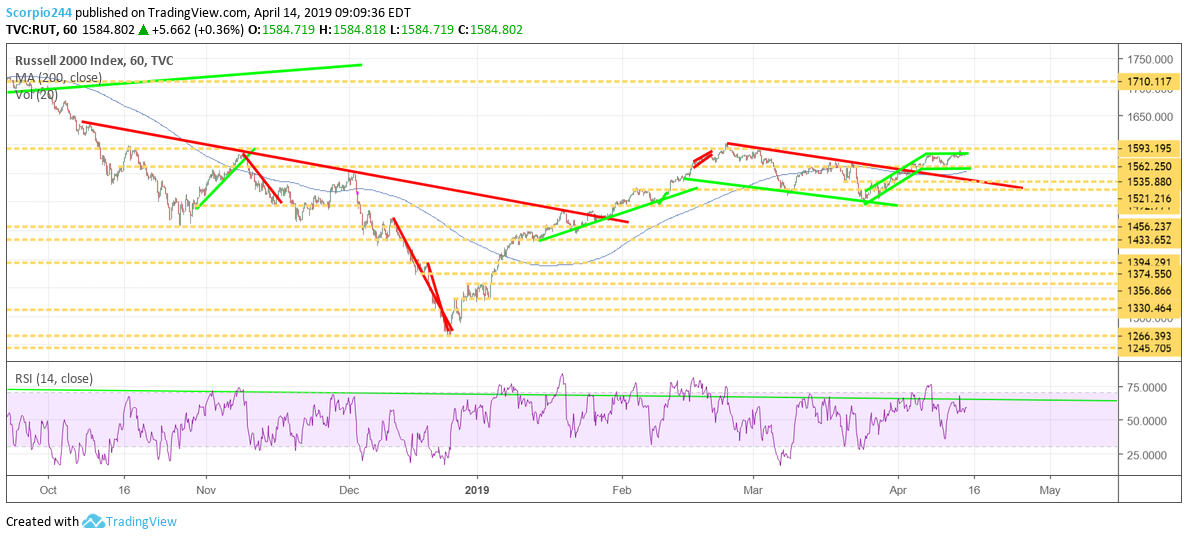 IWM
Citigroup (C)
Citigroup Inc (NYSE:C) will report results on Monday before the open, and this stock has looked strong in recent weeks. The stock broke a major downtrend which has been in place since January 2018. That could mean the stock goes even higher, perhaps to $70.75, its next level of resistance.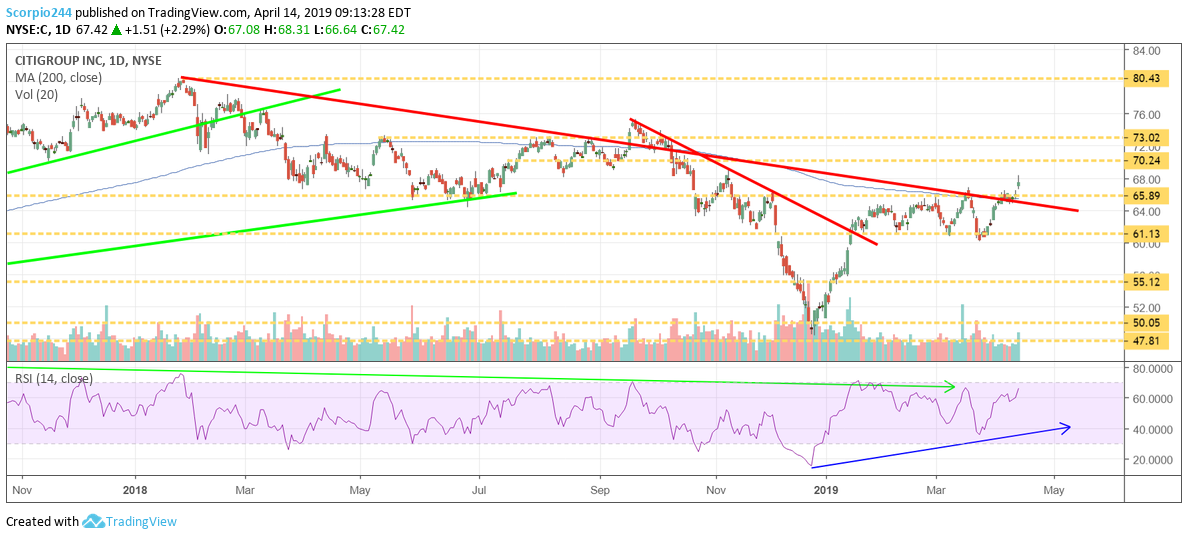 C
Goldman Sachs (GS)
Goldman Sachs Group Inc (NYSE:GS) is also reporting on Monday morning. The chart is also bullish with the next level of resistance coming around $216. The RSI has had a significant shift in recent weeks after nearly a year-long downtrend. Now the RSI is trending higher, and that suggests the stock continues higher as well.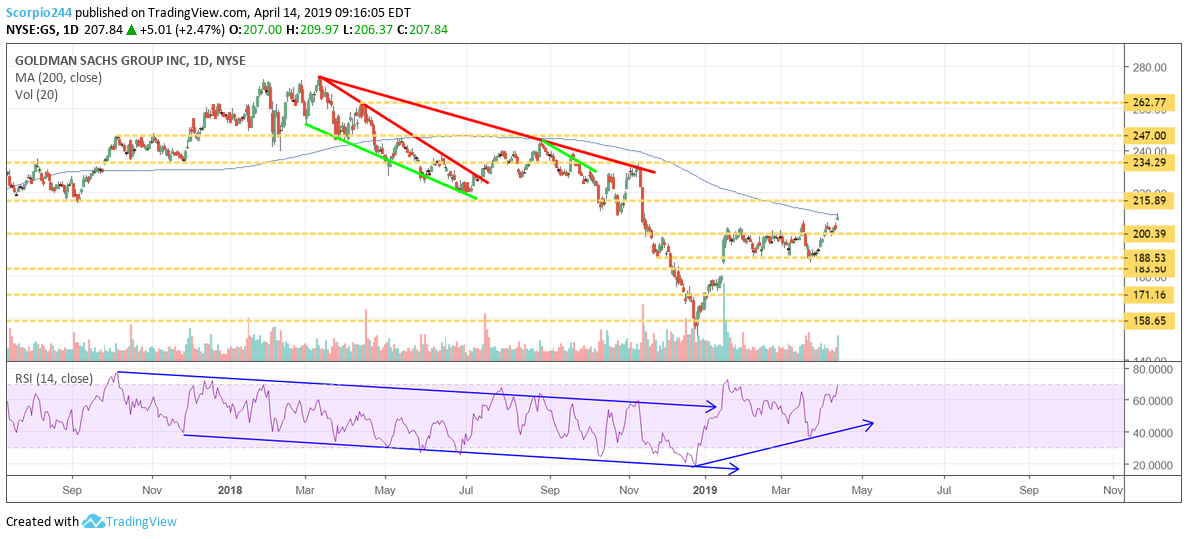 GS
Bank of America (BAC)
Bank of America Corp (NYSE:BAC) will report results on Tuesday. The stock is also breaking out of a horrible year + downtrend. The RSI is also changing the trend and rising. It suggests the stock continues higher too, potentially to $32.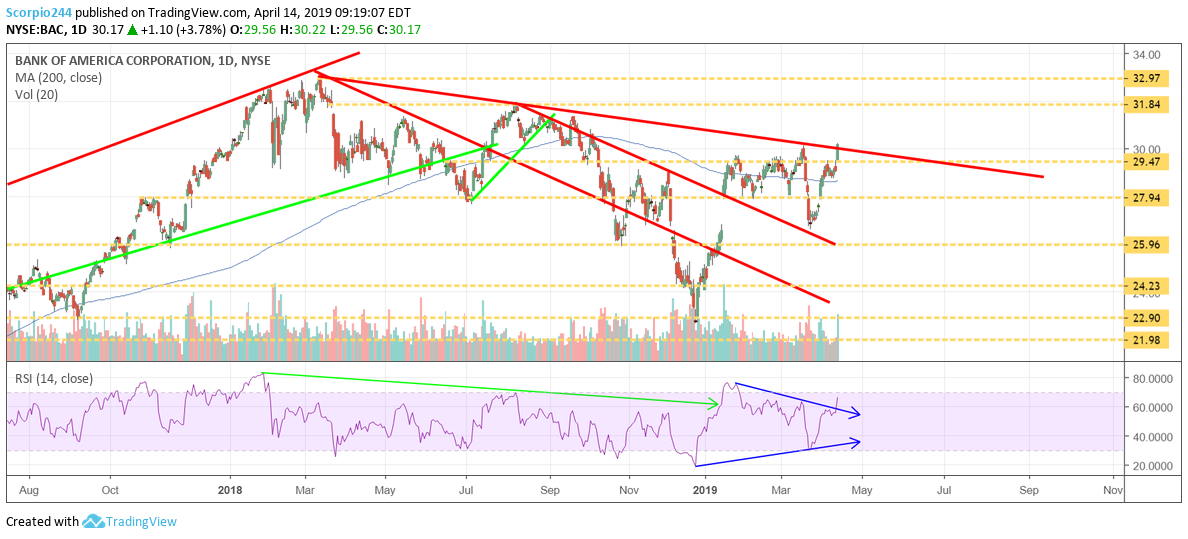 BAC
Netflix (NFLX)
Netflix Inc (NASDAQ:NFLX) reports on Tuesday. I continue to think this heads towards $400.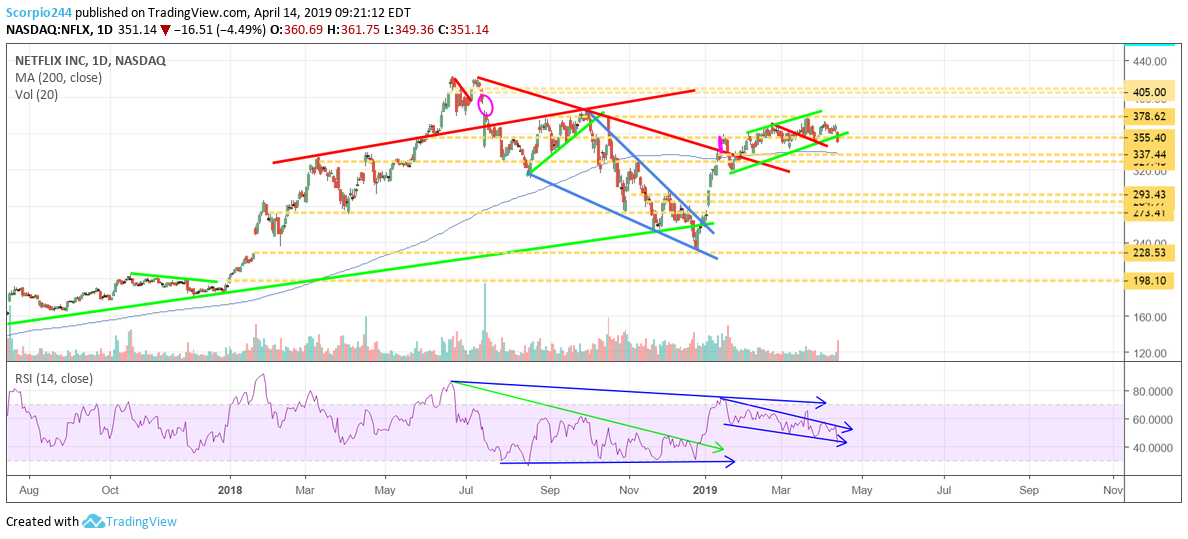 NFLX
IBM (IBM)
International Business Machines (NYSE:IBM) reports Tuesday afternoon, and we can read all about its growth imperatives that hardly grow. Any, the chart is still bullish and pointing towards an increase to around $147.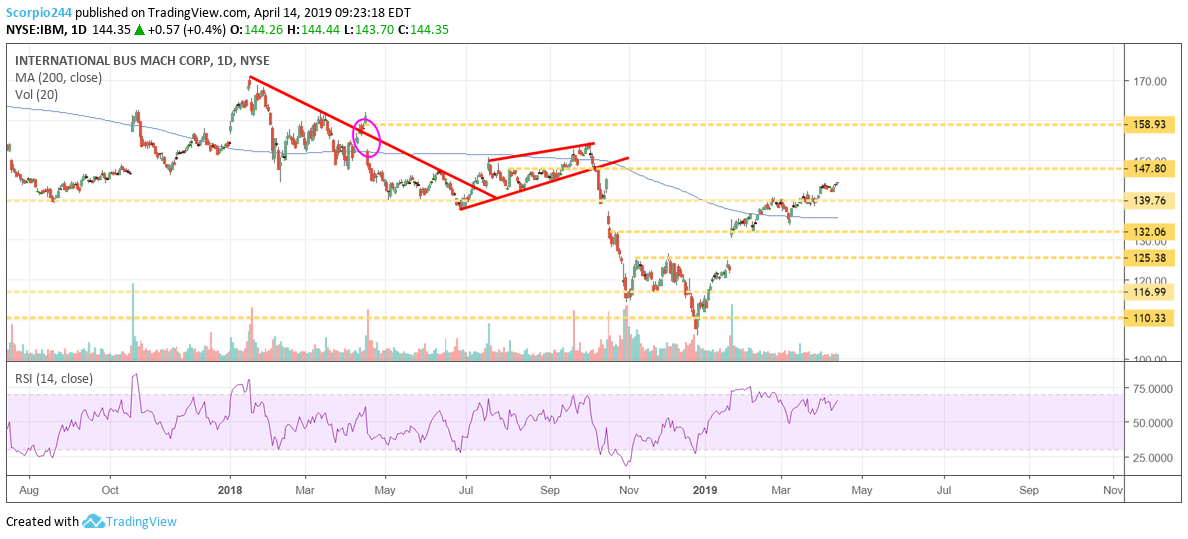 IBM
Morgan Stanley (MS)
Morgan Stanley (NYSE:MS) will report on Wednesday morning, and it too has broken free of a major downtrend and could be on its way towards $51. Again its RSI has also broken free of a significant downtrend like the other banks, and it suggests shares continue to rise as well.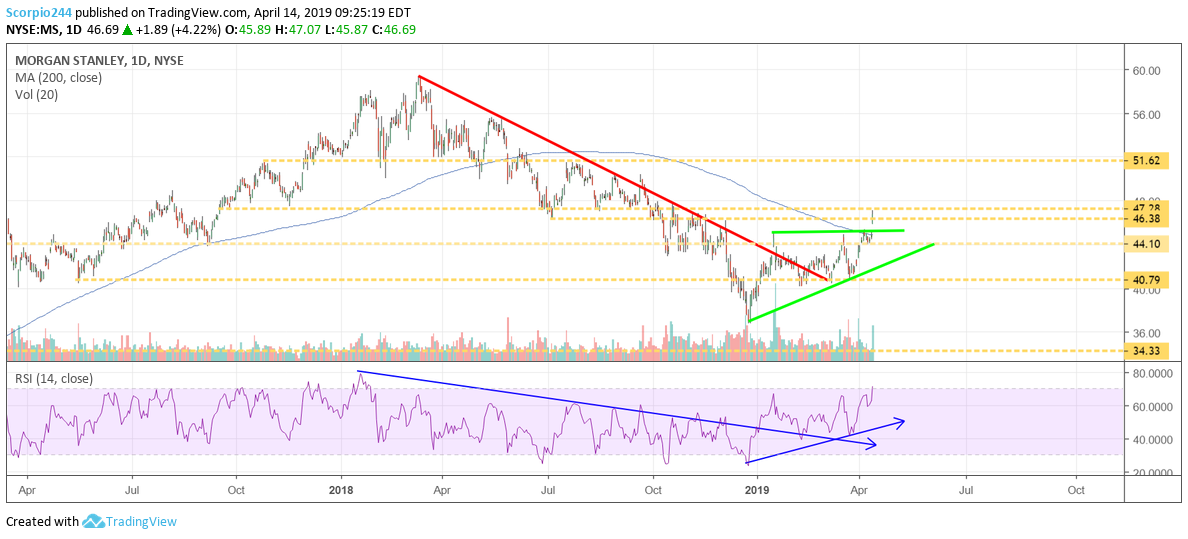 MS
Amazon (AMZN)
Amazon.com Inc (NASDAQ:AMZN) is approaching its next big breakout should it clear $1850, and that could mean a rise to $1900.
AMZN
Facebook (FB)
You can't stop Facebook (NASDAQ:FB); you can only hope to contain it. That is why it may still be heading higher, may to $186.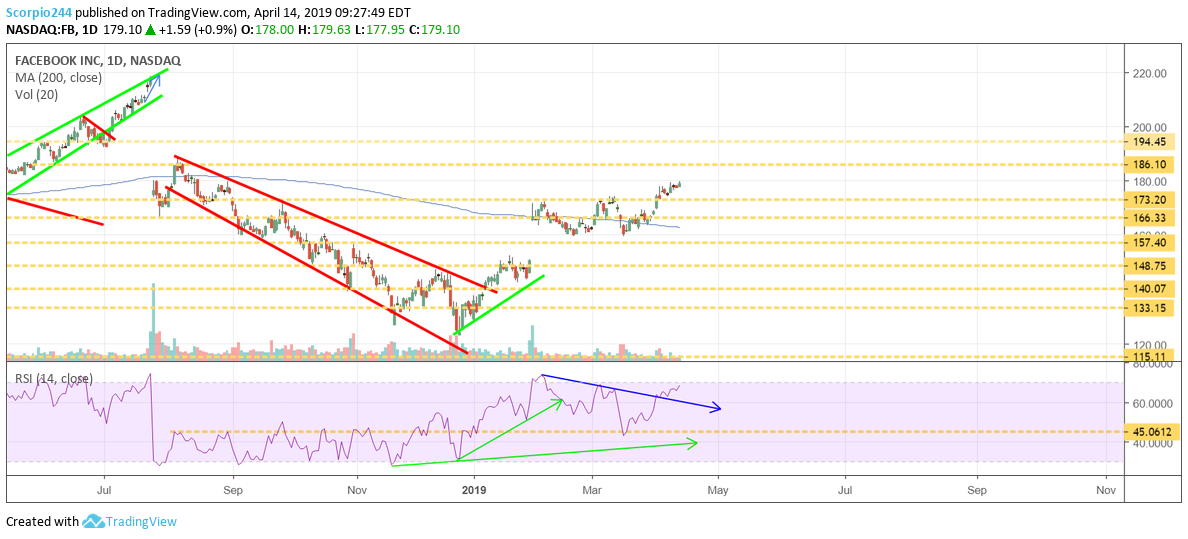 FB
AMD
Is AMD entering the next phase of its leg higher? Sure looks like it. Look at the change in the slope of the trend. The RSI is still trending higher, and that means $29.50 may be in its future.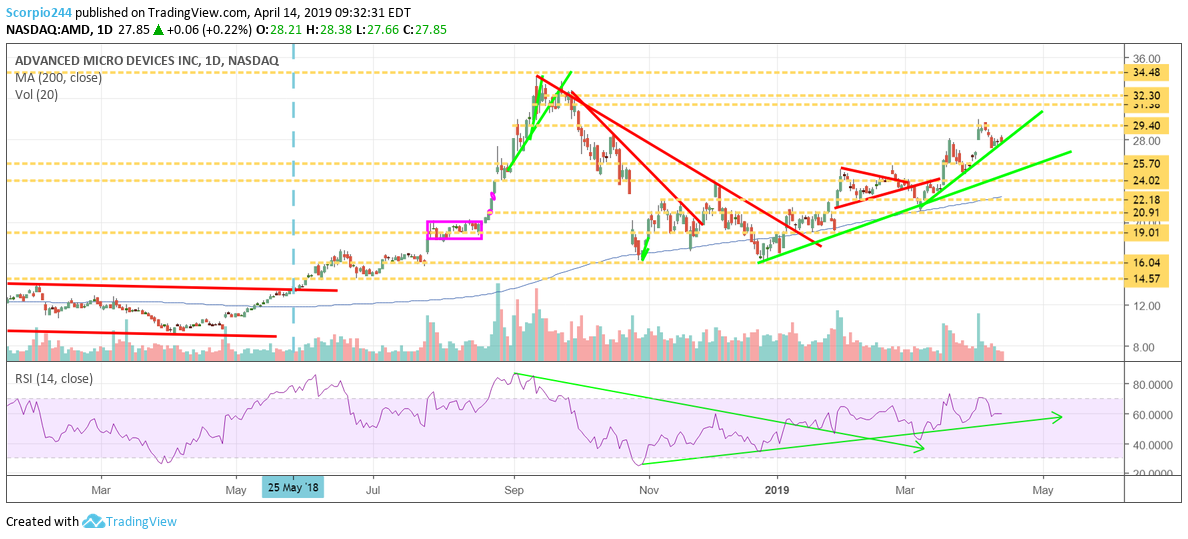 AMD
Nvidia (NVDA)
Nvidia no changes here at the moment with $198 still on the table.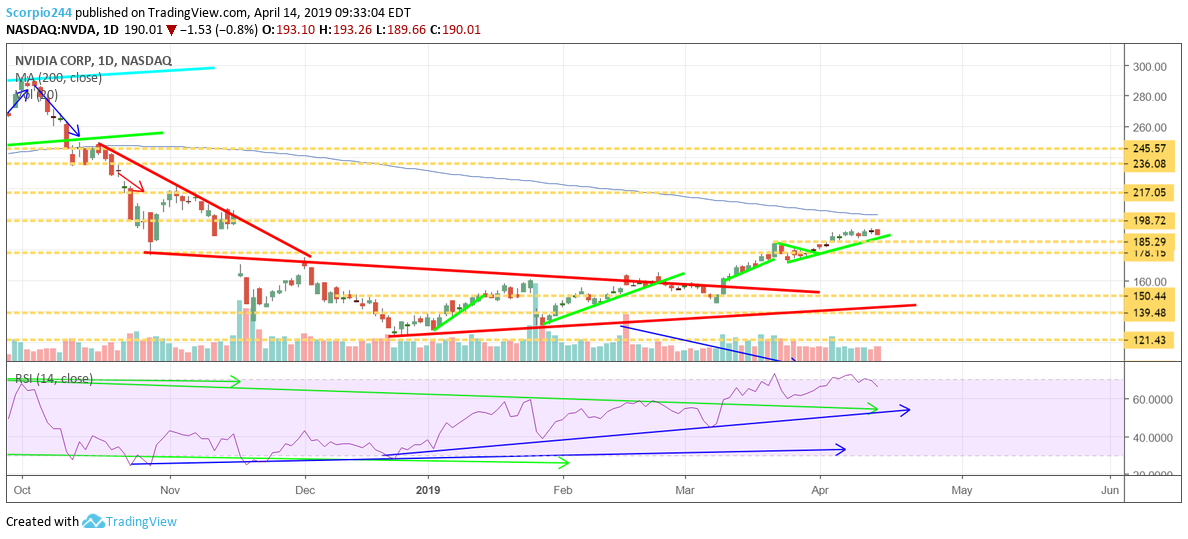 NVDA
Roku (ROKU)
Are investors swapping out of Roku Inc (NASDAQ:ROKU) for Disney on Friday? Maybe, Disney trades at 19 times 2020 earnings, Roku isn't expected to even earn a profit until 2021. Which is the cheaper way to play streaming growth? Disney. Sorry, Roku continues lower to $52.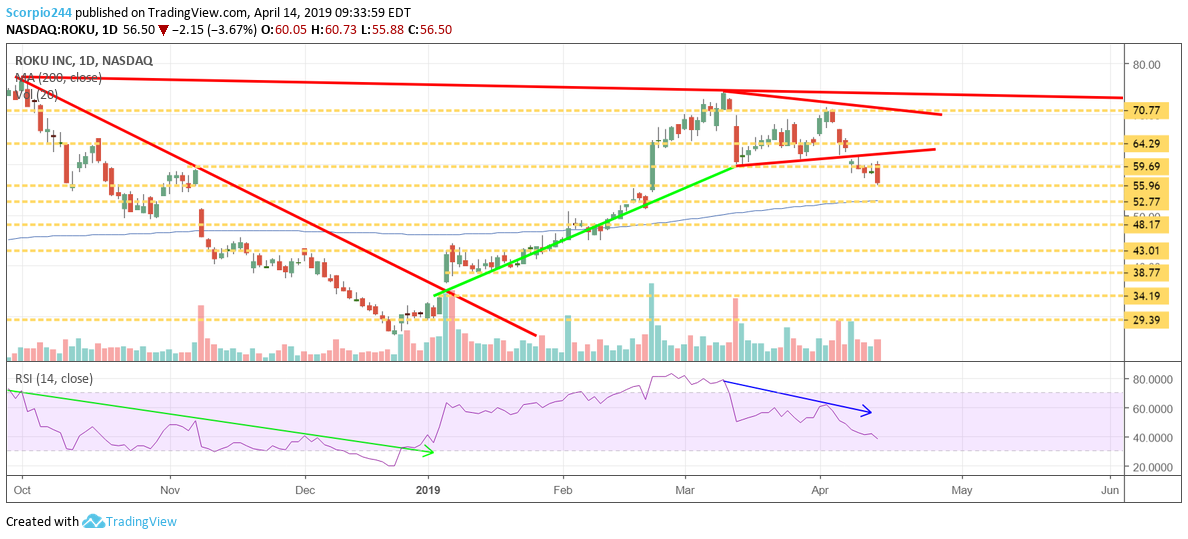 ROKU
Disclaimer:
Michael Kramer and the clients of Mott Capital own Netflix. Michael Kramer owns IWM Calls.