AUD/USD continues to fall inside the daily Down Channel chart pattern which was previously identified by Autochartist. Autochartist rates the quality of this Down Channel at the 7-bar level – which is the result of the slow Initial Trend (2 bars), above-average (6 bars) and strong Clarity (8 bars). AUD/USD is expected to fall further inside this Down Channel – in line with the earlier downward reversal from the key resistance area shown below.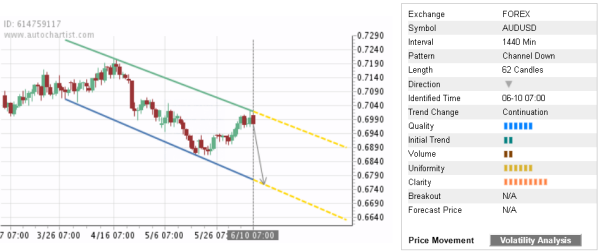 AUDUSD Chart
As can be seen from the daily AUD/USD chart below, the pair recently reversed down from the resistance area lying between the key round resistance level 0.7000 (former multi-month support level from March and April), upper daily Bollinger Band(R), 50-day moving average and the 38.2% Fibonacci correction of the previous sharp downward impulse from April. The proximity of this resistance area and the strength of the active daily downtrend increase the probability AUD/USD will continue to fall inside this Down Channel.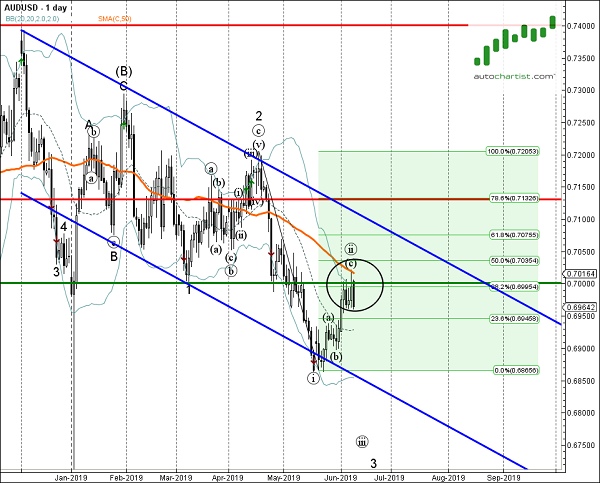 AUDUSD 1 Day Chart
AUD/USD Falls Inside Down Channel Pattern
Disclaimer: THE RISK OF LOSS WHEN INVESTING IN SPOT FOREIGN EXCHANGE MARKET CAN BE SUBSTANTIAL: YOU SHOULD THEREFORE CAREFULLY CONSIDER WHETHER SUCH INVESTMENT IS SUITABLE FOR YOU IN LIGHT OF YOUR FINANCIAL CONDITION. THIS KIND OF INVESTMENT INVOLVES SUBSTANTIAL RISK AND IS NOT FOR ALL INVESTORS. INVESTMENT IN THE CURRENCY EXCHANGE IS HIGHLY SPECULATIVE AND SHOULD ONLY BE DONE WITH RISK CAPITAL. THE HIGH DEGREE OF LEVERAGE THAT IS OFTEN OBTAINABLE IN FOREIGN EXCHANGE TRADING CAN WORK AGAINST YOU AS WELL AS FOR YOU. THE USE OF LEVERAGE CAN LEAD TO LARGE LOSSES AS WELL AS GAINS. THIS BRIEF STATEMENT CANNOT DISCLOSE ALL OF THE RISKS AND OTHER SIGNIFICANT ASPECTS OF THE FOREIGN EXCHANGE MARKETS. THEREFORE, YOU SHOULD CAREFULLY REVIEW THE DISCLOSURES CONTAINED IN BOTH THE MARKET MAKER'S TRADING AGREEMENT AND THE INTRODUCING BROKER'S LIMITED POWER OF ATTORNEY (LPOA) TO DETERMINE WHETHER SUCH INVESTMENT IS APPROPRIATE FOR YOU IN LIGHT OF YOUR PARTICULAR FINANCIAL CONDITION.