The rally in Beyond Meat (NASDAQ:BYND) shares doesn't seem to be showing any sign of peaking. The most successful initial public offering of 2019, the producer of plant-based "meat" is continuing its upward march, and proving many naysayers wrong.
The latest upswing in its share prices came when the El Segundo, California-based maker of plant-based burgers released its debut earnings report last week, crushing analyst expectations and giving upbeat guidance for 2019. Its stock surged more than 39% on Friday, a day after the company told investors that it could break even this year as more and more restaurants and grocery-chains buy its meatless products, such as burger patties and sausages.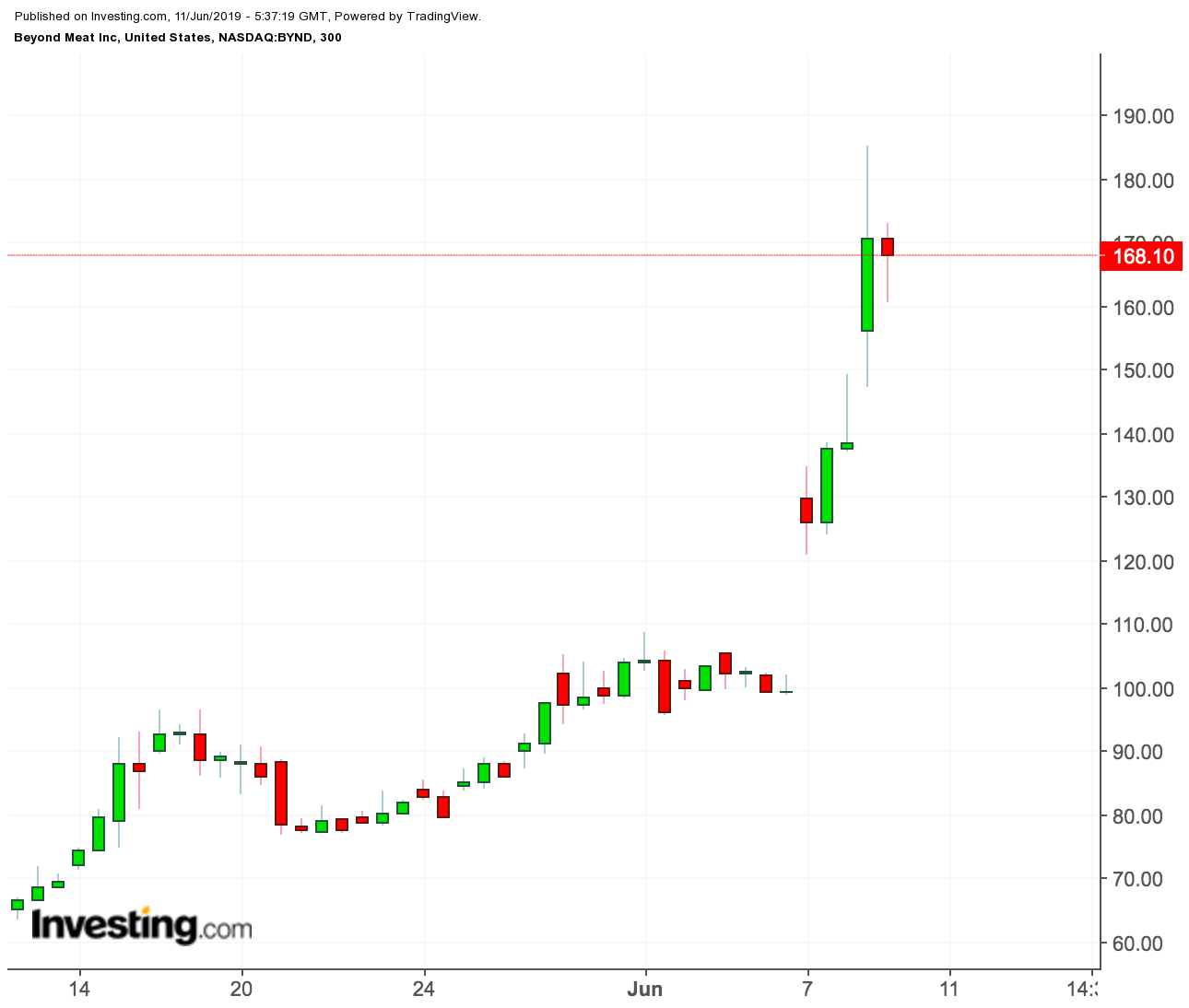 Beyond Meat Price Chart
Before the Friday rally, Beyond Meat had already jumped about 300% from its $25 a share IPO price. It closed at $138.65 on Friday and rose a further 21% yesterday, to $168.10. Let's take a closer look at their quarterly numbers and try to make sense of this remarkable run in their stock prices.
The 10-year-old company is gaining traction much faster than many analysts had expected. Its quarterly sales more than tripled in its first financial report since going public on May 2. The company's revenue climbed to $40.2 million for the quarter ended March 30, versus $12.8 million for the year-ago period.
Beyond Meat reported a net loss of $6.6 million, or $0.95 a share, versus a loss of $5.7 million for the first quarter of 2018. Analysts anticipated $38.9 million in sales and a $6.7 million net loss for the quarter, according to FactSet.
Though the company continued to lose money, the management now expects to break even in 2019 on the adjusted EBITDA that takes into account interest payments, taxes and some other factors. Its sales for the year are likely to jump 140% when compared with last year, exceeding $210 million.
"Our strong first quarter financial results, we believe, demonstrate mainstream consumers' desire for plant-based meat products in the U.S. and internationally," said Ethan Brown, Beyond Meat's President and Chief Executive Officer in the earnings statement. "Our team continued to scale our business in both retail and foodservice as we benefited from broad-based growth in the first quarter."
With this upbeat management stance, there are good reasons for investors to feel excited. Over the past 18 months, Beyond Meat has struck deals to supply burger patties to chains including TGI Friday's, Del Taco Restaurants Inc. and Carl's Jr., the burger chain operated by CKE Restaurant Holdings Inc. Tim Horton's, the Canadian breakfast spot, is also testing breakfast sandwiches that contain Beyond Meat products.
Outside of these top food chains, Beyond Meat products have also been popular in more than 11,000 U.S. grocery stores where its burger patties and sausages are occupying the shelf space where mainstream customers look for their meat. The company's growing revenue suggests that meat consumers in the U.S. are likely the company's customers.
Lofty Valuations and Upcoming Competition
But Beyond Meat's eye-popping rally is also raising questions in the minds of cautious investors who try to justify these lofty valuations. After Friday's 39% surge, the faux meat supplier's market valuation is nearing $8 billion, putting it in the league of established food companies with billions of dollars in sales.
Just to provide a context, Tyson Foods (NYSE:TSN), the largest U.S. meat producer, has a $30 billion market cap with $43 billion in expected sales for the current fiscal year. Before last week's earnings report, Beyond Meat was trading at the enterprise-to-12-month-forward-sales multiple of 19 — a huge premium when compared to other packaged food companies which are trading at the low single-digit valuations.
Of course, these comparisons don't make much sense when we are dealing with a high-growth company like Beyond Meat, but investors should take into account the threats which might damage this highly ambitious growth scenario.
After seeing Beyond Meat's success, for example, some major players are just getting ready to enter the plant-based food market. Nestle SA (SIX:NESN) has already announced that its plant-based Awesome Burger will debut in the U.S. later this year. Tyson – a one-time investor in Beyond Meat – also plans to introduce its plant-based product later this year.
Bryan Spillane, an analyst at Bank of America, wrote in a research note that the extrusion process used to manufacture Beyond Meat products is fairly common in the making of other packaged foods, keeping the entry barriers quite low for other aspirants, especially big food giants.
According to the same analysis, cited by a Bloomberg report, the higher price for Beyond Meat burgers could provide a ceiling for future growth. The average retail price for Beyond Meat burgers is $12 per pound, compared to $4 per pound for regular beef patties.
Bottom Line
Beyond Meat has grabbed the attention of a market which was left open by the big food companies. But that space is about to become more crowded, with many established players joining the fray in the next 12 months.
We don't believe Beyond Meat has a big economic moat to defend its turf once the competition heats up. Investors who have made a killing in this trade should trim their positions and book profit. Those on the sidelines should wait for a better entry point.