Emini and Forex Trading Update:
I will update again at the end of the day.
Pre-Open market analysis
The Emini reversed down yesterday from above the May 16 high and 2900. There is now a double top bear flag on the daily chart. Yesterday is the sell signal bar for today.
But after a 6-day rally, most bears will want a micro double top before selling. Furthermore, yesterday was a doji bar on the daily chart and therefore a weak sell signal bar. Consequently, if today is the start of a pullback, the selloff will probably just last a few days. A trading range is more likely than a bear trend.
When a market races up to resistance and then stops, it usually enters a tight trading range. It needs time to decide if it will break out or reverse. That is what is happening on the daily chart. The Emini will probably begin to pull back this week. It will likely be sideways into next week's FOMC announcement.
Yesterday sold off in a bear channel on the 5 minute chart. Since 75% of bear channels have bull breakouts, yesterday is a bull flag. Today will probably break above the bear channel.
The bears will try to create a double top with yesterday's high. That would create a micro double top on the daily chart. This is especially important since the daily chart is testing important resistance at the May 16 high.
Overnight Emini Globex trading
The Emini is up 17 points in the Globex session. It will therefore open far above the bear trend line on the 5 minute chart. In addition, it might gap up above yesterday's high, like each of the past 4 days.
However, the daily chart is at resistance and it is overbought. In addition, there is a parabolic wedge bull channel on the 60 minute chart. There is therefore an increased chance of a reversal down today from around yesterday's high. That would create a double top on the 5 minute chart, which would be a micro double top on the daily chart.
Can today rally far above the May 16 high today? Yes, but that is less likely than either a mostly sideways day or at least a small reversal down. But if there are several consecutive big bull trend bars, traders will conclude that today could be a strong bull trend day. They would then expect a test of the all-time high ahead of next week's FOMC meeting.
Yesterday's Setups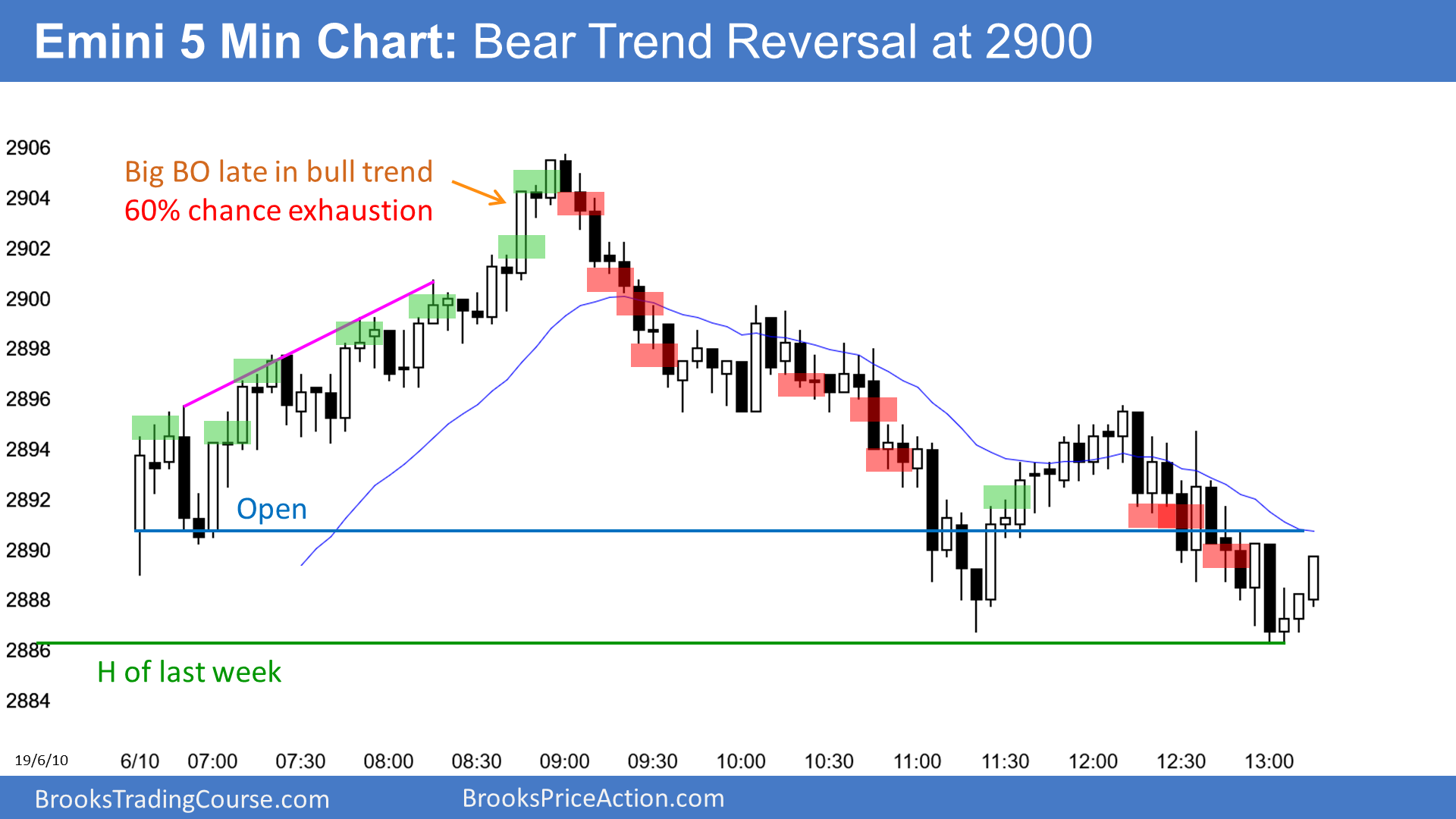 Emini S&P 500
Here are several reasonable stop entry setups from yesterday. I show each buy entry with a green rectangle and each sell entry with a red rectangle. I rarely also show limit order entries and entries on the close of bars. Buyers of the Brooks Trading Course have access to a much more detailed explanation of the swing trades for each day.
My goal with these charts is to present an Always In perspective. If a trader was trying to be Always In or nearly Always In a position all day, and he was not currently in the market, these entries would be logical times for him to enter.