Continued strong demand for Esker's (PA:ALESK) SaaS-based software in H119, with group revenue growth of 17% y-o-y and the value of contracts signed 51% higher y-o-y, prompts us to upgrade our revenue forecasts for FY19 and FY20. In our view, high levels of recurring revenue, a strong balance sheet and a focus on investing to maintain growth justify Esker's premium valuation.

Esker Revenue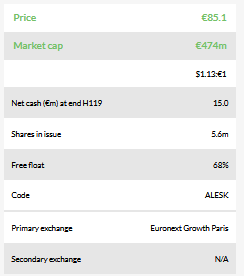 Market Cap
Positive revenue momentum continues in H1
Esker's Q219 revenue update confirmed continued strong demand for its SaaS software: Q2 revenue EUR26.1m (+18% y-o-y/+16% constant currency (cc)); H119 revenue EUR50.1m (+17% y-o-y/+15% cc). SaaS-based revenues made up 90% of Q2 revenues and grew 21% cc y-o-y. Despite being in long-term decline, legacy products (4% of revenues) were up 9% cc in Q219 and H119. Esker had gross cash of EUR21.5m and net cash of EUR15.0m at the end of H119. The value of contracts signed in H119 was 51% higher y-o-y, providing good support for medium-term growth. As H1 revenues have typically made up 49% of annual revenues, the company expects to achieve revenues in excess of EUR100m for FY19, assuming no major FX changes. We have revised up our revenue forecasts by 1.6% in FY19 and 1.7% in FY20, but maintain our EPS forecasts reflecting the initial costs of new contract implementations and the impact of the stronger dollar on the cost base.
New sales and technology partnerships
In June, Esker announced it had partnered with KPMG in the Netherlands. KPMG will market Esker's cloud-based Accounts Payable solution as part of its RPA and Finance Transformation offering. This week, Esker announced that it had made an investment in B/2BNOW, a Wisconsin-based start-up providing electronic data interchange (EDI) solutions for SAP S/4HANA Cloud ERP systems. Steve Smith, Esker's US head, will join the board of B/2BNOW.
Valuation: Reflects high levels of recurring revenue
The stock is up 38% year-to-date and continues to trade at a premium to document processing automation peers and French software peers, in our view due to its superior growth and profitability. With 90% of revenues from SaaS activities, we view US SaaS software peers as more relevant and Esker trades at a discount on all metrics. In our view, high levels of recurring revenue, a strong balance sheet and a focus on investing to maintain growth justify Esker's premium valuation.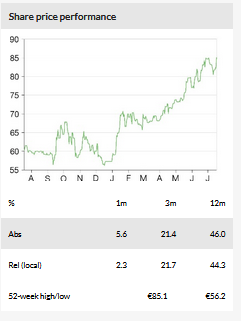 Share Price Performance
Business description
Esker provides end-to-end document automation solutions, offering on-demand and on-premise delivery models. In FY18, the business generated 56% of revenues from Europe, 38% from the US and the remainder from Asia and Australia.
Changes to forecasts
We have revised our forecasts to reflect strong H119 revenues, a stronger dollar versus the euro and higher dividend forecasts for FY19 and FY20; this has no impact on our normalised EBIT or EPS forecasts. We have also revised the amount paid for the dividend announced and paid in June. The company paid a dividend of EUR0.41 (versus our EUR0.36 forecast), which was increased to EUR0.451 for investors who had held their shares for at least two years (we assume 25% of shareholders were entitled to the higher amount).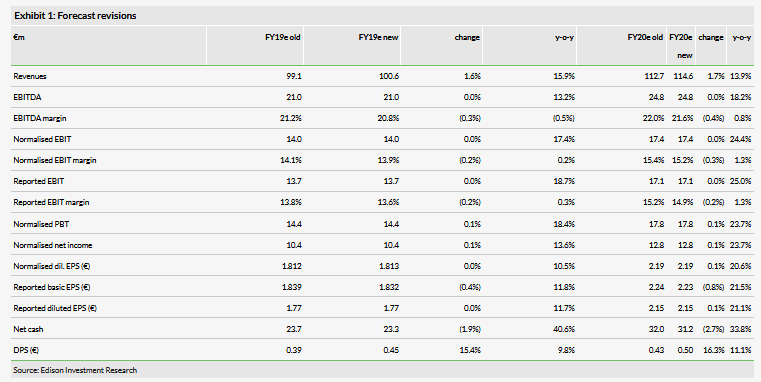 Forecast Revisions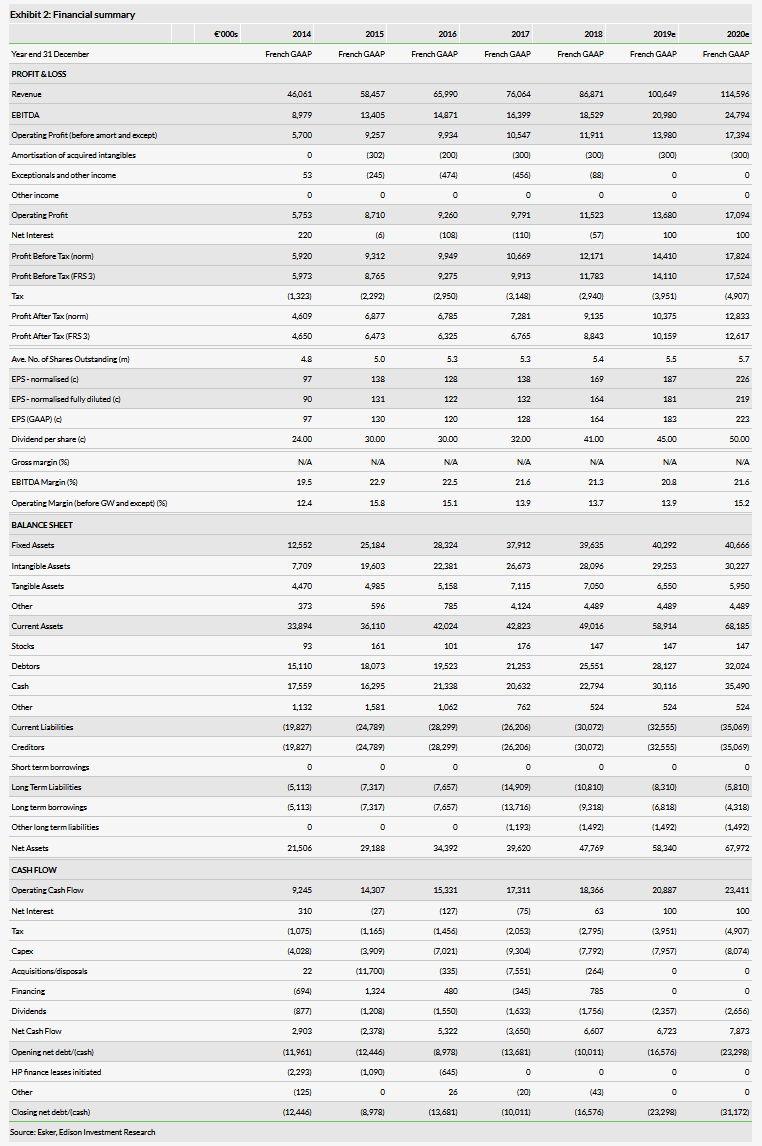 Financial Summary