The streaming video giant Netflix (NASDAQ:NFLX) has had a great start to the year. Its stock continues to be the best performer of 2019 when compared to other top technology companies.
It's shares have risen 34% to $358.82 so far this year, delivering the best gains among top technology companies, including Facebook (NASDAQ:FB), up 25%, Apple (NASDAQ:NASDAQ:AAPL), up 16%, and Amazon (NASDAQ:NASDAQ:AMZN), up 9.5%.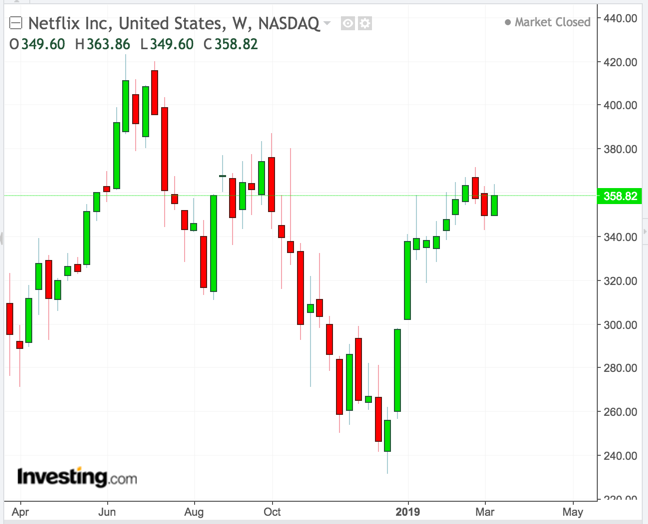 Netflix Weekly Chart
Despite this remarkable run, the year is going to one of the most challenging for the company that has changed the way people consume entertainment content. Though we like Netflix stock because of its superior content and its technology that's fueling explosive global growth, there are some potential headwinds gathering pace this year that could halt this powerful rally going forward.
First, the year will show whether the price increases that Netflix announced in January were absorbed successfully without affecting its subscriber growth. In the biggest adjustment to its monthly subscription fee, Netflix raised prices between 13-18%. The cheapest basic plan now costs $9 a month, up from $8, while the cost of popular HD Standard plan went up to $13, from $11; and the 4K Premium plan to $16 from $14.
This was the fourth time Netflix increased prices since its launch, but it was the biggest hike. No doubt the timing was great amid the success of its new content such as "Bird Box" and "Tidying Up With Marie Kondo," but it's hard to say to what extent the price changes will affect subscriber growth.
One indication that these price increases will have some impact on growth came from the company's latest forecast for subscribers. After seeing paid memberships increase by 8.84 million in the fourth quarter, beating Netflix's own forecast, the company seems to be taking a cautious tone for the current quarter, predicting 8.9 million new customers globally, a slight increase from the previous period.
Another threat that's just round the corner for Netflix is new competition from some of the world's largest media companies. The most immediate one is coming from Walt Disney (NYSE:NYSE:DIS) and AT&T (NYSE:NYSE:T)'s WarnerMedia as both companies gear up to launch their own streaming services later this year.
In our view, Disney is the one that has the financial muscle, great content and management backing to pose the biggest challenge for Netflix. Disney's CEO Bob Iger has made the video-streaming service a core part of its growth strategy.
He is busy restructuring the company's executive compensation, and is willing to sacrifice growth by jacking up spending for the new service, which he says will be loaded with Disney's quality brands, such as "Avatar" and "Zootopia."
It would be naive to take the Disney threat lightly: the world's largest entertainment company has been a long-term winner in the media business and has multiple revenue streams to help it survive while it takes the Netflix fight head on. The company will soon complete the $71 billion purchase of 21st Century Fox (NASDAQ:FOX)'s entertainment assets, which it plans to package in its online service.
With the online streaming market becoming crowded and competition heating up, we think the next big challenge for Netflix will be to manage its cash-burn, which has been a major source of concern for many analysts.
In 2018, Netflix spent $12.04 billion on content development, but this high development cost generated a negative $2.68 billion cash flows. This fiscal year, the company is likely to show $3 billion cash-burn, further boosting its debt level.
As long as the company is increasing its subscribers, investors have little reason to worry about the company's high spending, but the growing cash-burn will be the one issue that could hurt its stock if subscribers growth slows.
Bottom Line
Netflix is a great company and its stock has been a great bet for investors seeking high growth. With its huge subscriber base, successful content strategy and superior technology, it's hard not to like Netflix stock. However, we think it's important to highlight the major risks this company will face in 2019, so that investors aren't taken by surprise if the journey gets a little bumpy.