U.S. futures, European shares slip on Alphabet, Samsung's earnings debacle
Financials outperform in the U.S., show weakness in Europe; Real Estate lags
Treasury yields fall ahead of Fed's decision
Key Events
Futures on the S&P 500, Dow and NASDAQ 100 continued to wobble this morning after Samsung Electronics (KS:005930) posted a 60% year-on-year plunge in first quarter profits, adding to Alphabet's (NASDAQ:GOOGL) earnings disappointment and weighing on sentiment across Asian and European markets.
The STOXX Europe 600 slid lower with financials shares, which remained under pressure from the failed Deutsche Banke-Commerzbank merger and its cumbersome effects on the outlook for the region's banking system. Miners stocks also suffered, as did technology shares, which looked set to take a hit from signs of plateauing growth by Google's parent company, after the internet giant posted revenues $1billion short of expectations–something we warned about. The stock was down 7.73% in the pre-market.
In the earlier Asian session, China's Shanghai Composite (+0.52%) bucked the regional slide–driven by thin trading, due to Japan's "Golden Week" holiday–and gained ground despite poor manufacturing data. Perhaps, dip buyers are providing the fodder for short sellers according to the trading pattern of a H&S top, as illustrated in yesterday's post.

Global Financial Affairs
In yesterday's U.S. session, all four major indices advanced, with both the S&P 500 (+0.11%) and the NASDAQ Composite (+0.19%) extending record gains. The Dow eked out a 0.04% advance while the Russell 2000 (+0.46%) resumed its outperformance.
While Societe Generale's head of Asia equity, Frank Benzimra, warned investors to be sector-focused at this time, our own sector analysis revealed inconsistencies in the current market dynamic.
Financials (+1.01%) outperformed, ranking second-best sector for the month after lagging throughout the previous rout–and some expect banks will extend gains further. This is another example of how trading patterns don't necessarily fit with fundamentals trends. Since banks profit from interest rates, and therefore rally as the rates tick higher, we would have expected slowing inflation, and consequently the growing chances that the Fed would cut rates, to deflate financial shares.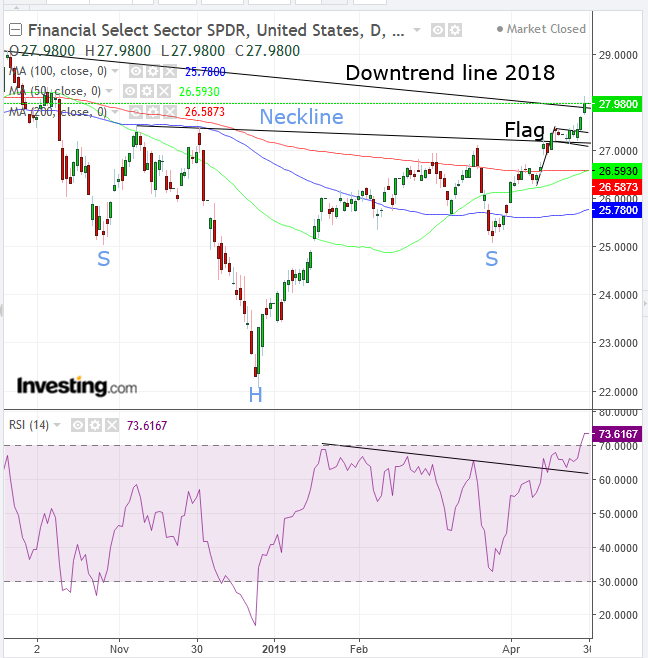 XLF Daily Chart – Powered by TradingView
Technically, the ETF completed a H&S bottom, a falling flag and closed above its downtrend line since January 2018, suggesting a longer way to go up.
Mirroring the same market structure inconsistency as financials was Real Estate's (-1.03%) underperformance: falling rates should boost the sector, as they would make mortgages more affordable and expected cashflow from property investments more competitive than Treasury yields.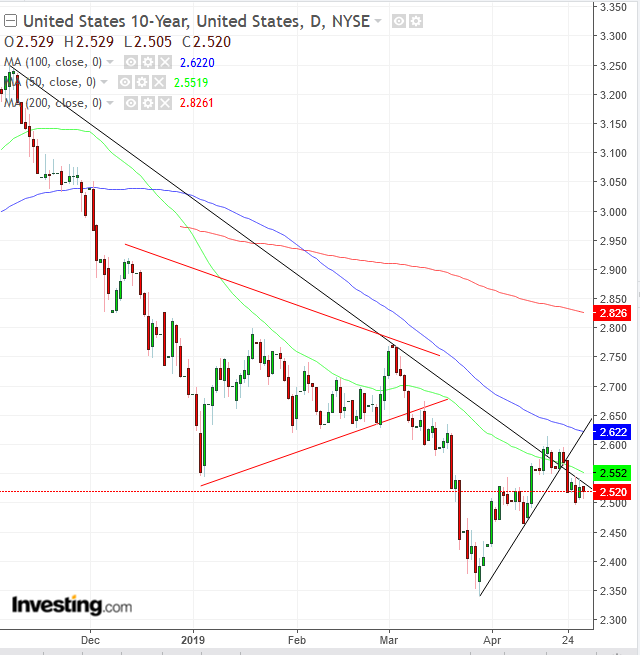 UST 10-Year Daily Chart – Powered by TradingView
Conversely, yields on 10-year Treasurys are falling ahead of the Fed's monetary policy decision, coming out tomorrow, in line with the outlook for lower rates and with their own downtrend.
Up Ahead
Provisional euro-zone GDP data for the first quarter came in at 0.4%, beating the 0.3% forecast and up from 0.2% in the previous quarter.
U.S. Treasury Secretary Steven Mnuchin and U.S. Trade Representative Robert Lighthizer are in Beijing for another round of trade negotiations with Chinese Vice Premier Liu He that will continue next week in Washington D.C.
The Bank of England sets interest rates and updates its economic forecasts on Thursday, with Governor Mark Carney holding a press conference.
Data on Friday is expected to show non-farm payrolls rose by 185,000 and unemployment rate grew 3.8% in April. Average hourly earnings growth are forecast to have picked up to 3.3%.
Earnings
Market Moves
Stocks
Currencies
Bonds
The yield on 2-year Treasurys fell two basis points to 2.27%.
The yield on 10-year Treasurys fell one basis point to 2.51%.
Japan's 10-year yield was unchanged at -0.04%.
Commodities