Bouncing off Tuesday's new 2020 intraday lows, the S&P 500 closed higher on the day. But what about yesterday's premarket action? The bulls didn't add to their gains in the overnight trading. With the futures back below 2400, where next for the stock market?
Let's start with the weekly chart to see the shape of things this very moment (charts courtesy of http://stockcharts.com).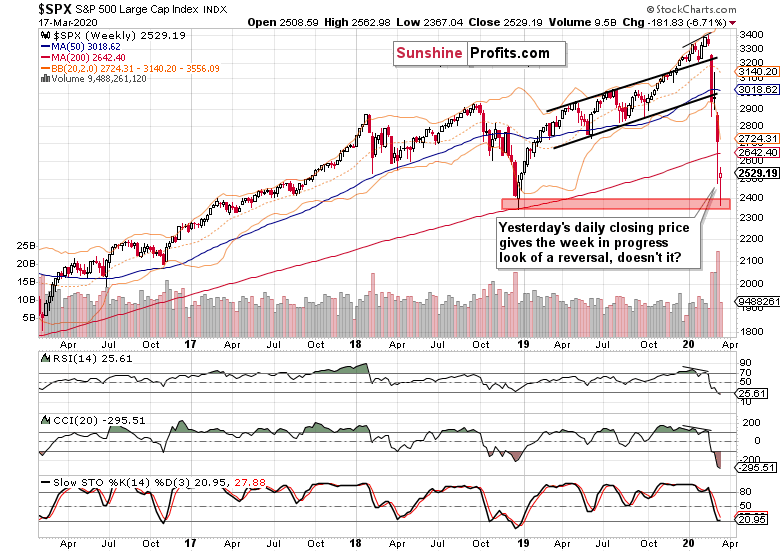 SPX Weekly Chart
While the week is far from over, the price action smacks of a reversal in the making. Accounting for Tuesday's session, the volume appears on track to beat last week's one. Should weekly closing prices stick around this level, that would support the likelihood of a turnaround. But what kind of a turnaround? It's our opinion that this would most likely mark a temporary respite only.
Let's move on to the daily chart.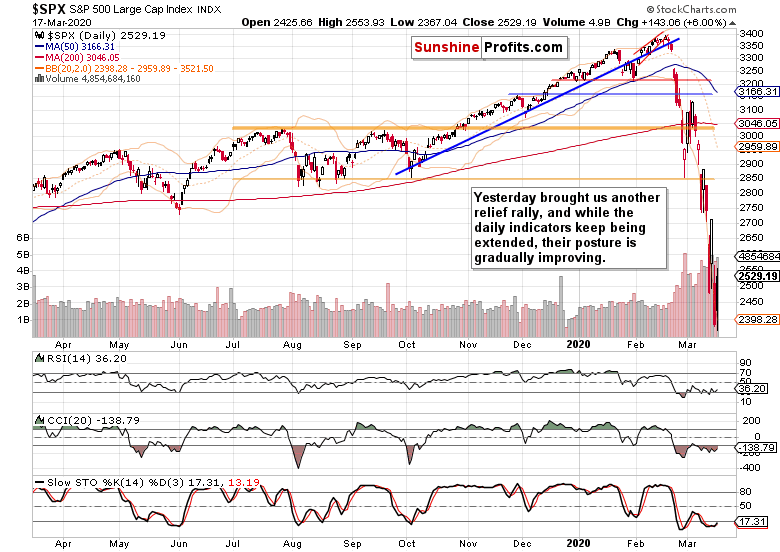 SPX Daily Chart
Similarly to Friday, stocks rebounded yesterday. While that appears encouraging, let's examine whether our Tuesday's notes remain up-to-date also yesterday,
(…) The daily indicators maintain their very extended posture. While that's no guarantee of a stock rebound, another relief rally might be due in short order.
The potential for a rebound is stronger tomorrow than has been today, and it's not just because of the potential next Fed move later today that might spur buying. It's the daily indicators – they're refusing to budge much lower with each daily slide (that speaks to prices being overextended to the downside), and Stochastics has even flashed its buy signal. While the signal came in its oversold area and thus is not as reliable as the one generated outside this range, it's still notable.
That's because should prices remain roughly unchanged today, or even move higher, Stochastics is likely to wave goodbye to its oversold area, lending more credibility to its buy signal. And that would increase the likelihood of more traders jumping in on the unfolding upswing.
Therefore, the current price point offers an opportune entry point from the risk-reward perspective – just like our Tuesday's profitable long trade did. Time for some more profits!
Summing up, while the bears have the upper hand, the potential for an upswing is growing day by day. And we plan to cash in on that just like we did yesterday. This is primarily supported by the daily indicators' posture.