Pre-Open market analysis
The S&P 500 Emini rallied for the 4th day yesterday to just above last week's high. It has now totally erased that selloff. I have been writing for the past 2 months that the Emini would probably pull back for 2 – 3 weeks after the weekly buy climax. This week could be the end of the pullback.
But, the bulls still need to break strongly above the October high before traders will believe that the rally will make a new high. Furthermore, the rally is already extreme and it is a leg within a 15 month trading range. Also, the Emini is at resistance. All of this makes a bigger pullback likely, even if the rally continues for another couple weeks.
The 4 day rally is unsustainable and therefore a buy climax. That increases the chance of a 1 – 2 day pause. This is especially true since the bulls have already reached their target of last week's high.
The next decision is how the week will look once it closes on Friday. Since the bulls have met their goals, the Emini might go sideways until the final hour of Friday. Then, traders will decide if they can close the week on its high and above last week's high.
Overnight Emini Globex trading
The Emini is up 1 point in the Globex session. Yesterday began as a bull trend but spent most of the day in a trading range. An early rally today that reverses down from around yesterday's high could form a major trend reversal on the 5 minute chart.
In strong bull trends, surprises are more likely to be rallies than selloffs. Consequently, there is an increased chance of a strong breakout above the 2018 triple top on the daily chart. More likely, though, is a pullback beginning today or tomorrow.
Since yesterday was sideways for the final 5 hours and the Emini is at resistance, today will probably be sideways as well. Traders will likely wait until next week to decide on whether this rally will break strongly above the October high.
Yesterday's setups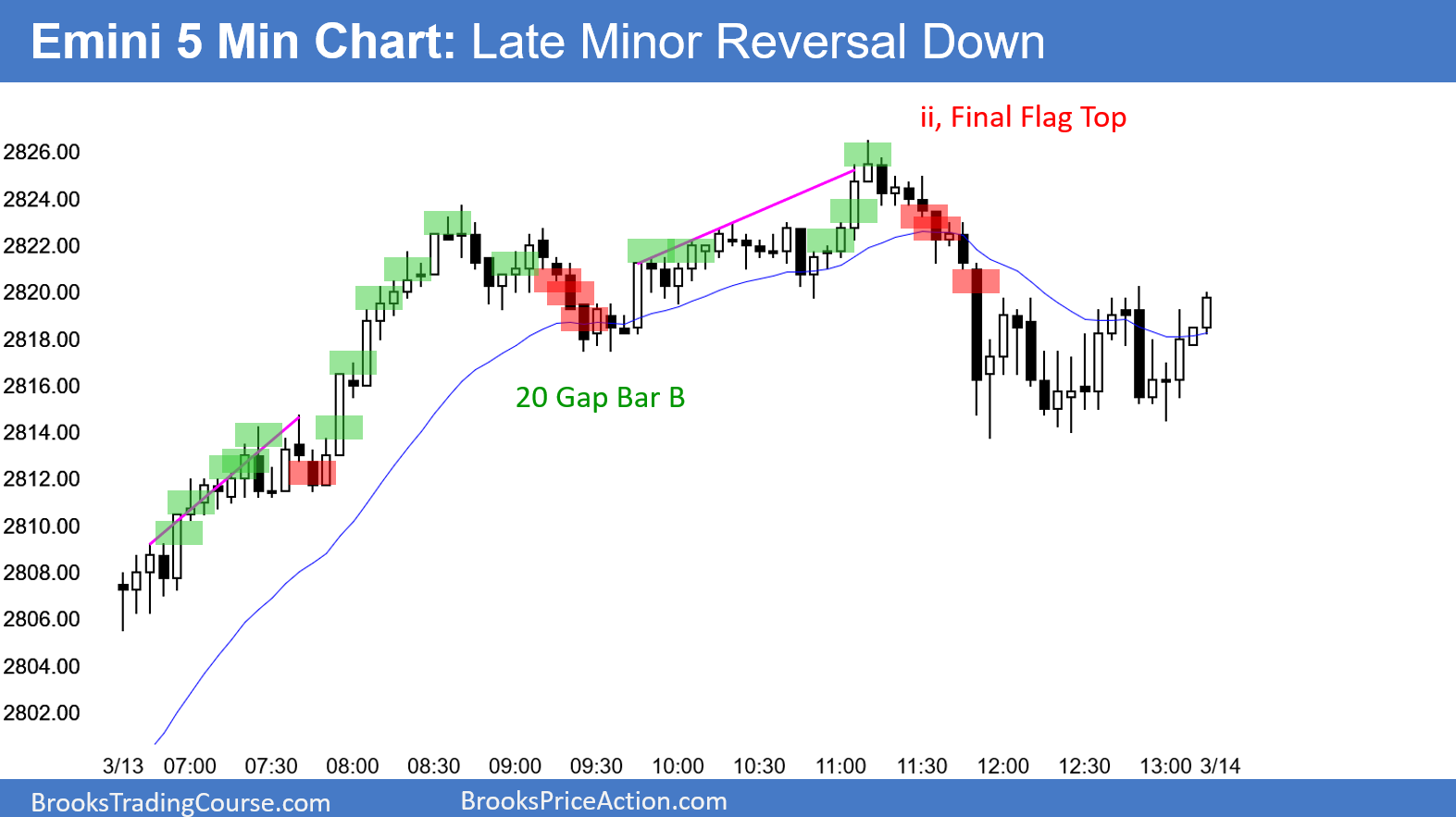 Emini 5 Min Chart
Here are several reasonable stop entry setups from yesterday. I show each buy entry with a green rectangle and each sell entry with a red rectangle. I rarely also show limit order entries and entries on the close of bars. My goal with these charts is to present an Always In perspective. If a trader was trying to be Always In or nearly Always In a position all day, and he was not currently in the market, these entries would be logical times for him to enter.