U.S. Trading
International Trading
China Shanghai +0.52%
Hong Kong HSI -0.65%
Japan Nikkei -0.22%
South Kospi -0.58%
Germany DAX -0.09%
UK FTSE -0.22%
Economic Data
China reported its manufacturing PMI for April at 50.2 versus March's 50.8.
We will get Chicago PMI at 9:45 this morning, expectations are for 59.1
Stocks will attempt to set a record again today, but headwinds are bit stronger today, with Alphabet (NASDAQ:GOOGL) shares falling. The first level that may act as support is 2,940, the previous all-time high, and then it would be 2915. But again, there is no doubting that the overall trend is higher still. Additionally, weakness in Alphabet is likely to be offset by strong pharma results.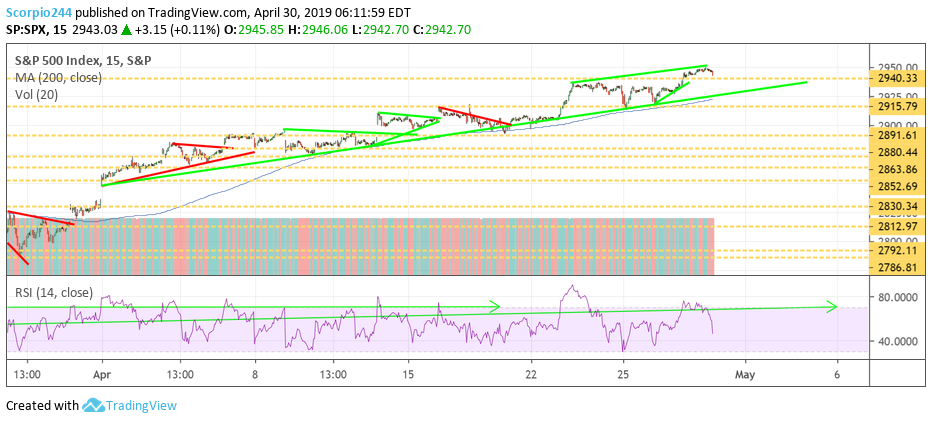 S&P 500, spy
Alphabet (GOOGL, GOOG)
Alphabet shares are falling today after earnings, shocker! It seems to be what happens every quarter. The only part of the report I'm surprised about is that the stock broke out to an all-time high ahead of those results. The stock had been rising in a very well defined channel since December, up nearly 30% since the lows.
I think the results were fine, despite the company missing revenue estimates by less than 3% at $36.24 billion. The company continues to hire tons of employees, rising to nearly 104k from 85k. The tax rate also rose to 18% from 11%.
Hey, there big problem, trading! Get some new traders. Their equity portfolio saw gains of just $1.1 billion down from $3.0 billion last year, which lead to that decline of $1.5 billion in other income.
All of a sudden that EU fine, increased R&D, and poor Equity trading performance hurt the bottom line.
So, anyway… Support is around $1,200. As long as the stock closes above $1200, which I think it shall, the stock will remain in that long-term uptrend. And chalk the declines up to out of control expectations.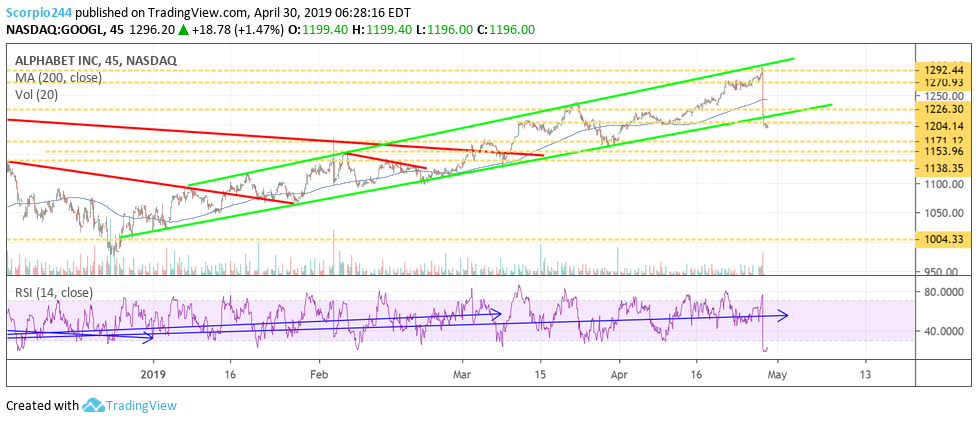 alphabet, googl
NXPI
Hey NXP Semiconductors (NASDAQ:NXPI) is jumping today after it reported better than expected results, with revenue topping estimates, and earnings, that topped. Additionally, the company offered better than expected guidance. $106 is still the next level of resistance.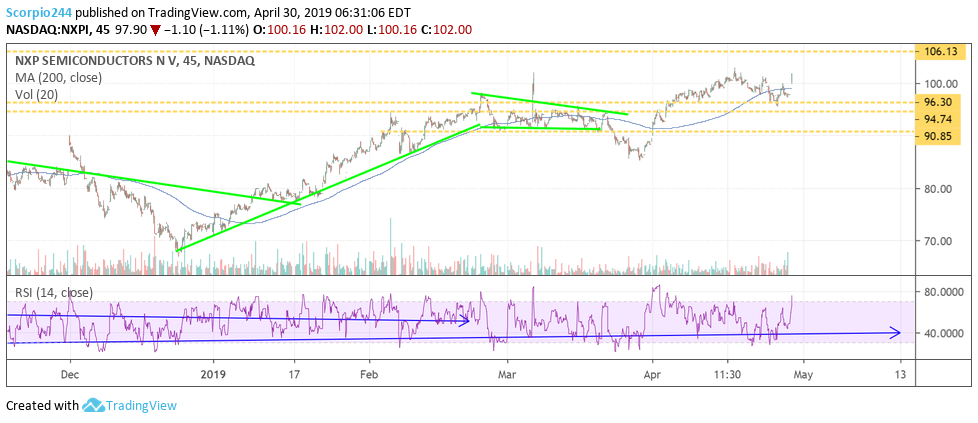 nxpi , nxp
Intel (NASDAQ:INTC)
Intel will be on watch again as it continues its fall from its earnings release. $50.50 is a big level of support, and decline below that price sets up a drop to $49.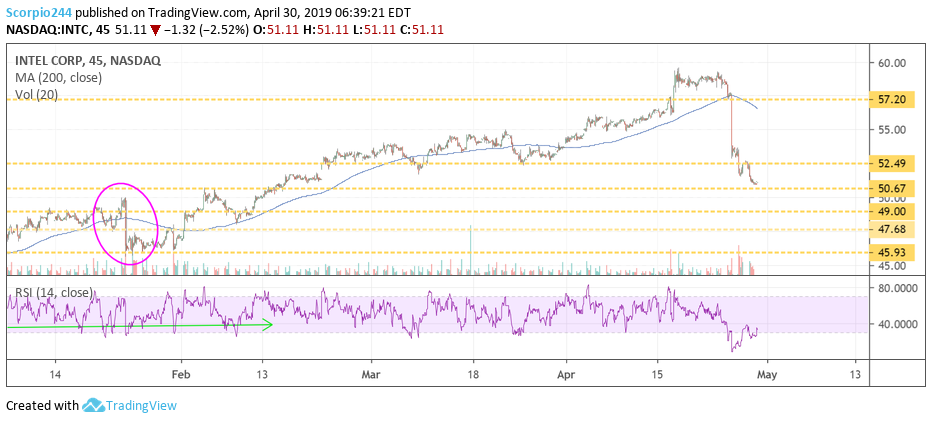 intel, intc
GE
General Electric Company (NYSE:GE) reported, and the stock is rising. $11 might a reasonable first stop. But looking at that cup-n-handle pattern one has to wonder if $12.30 is in play.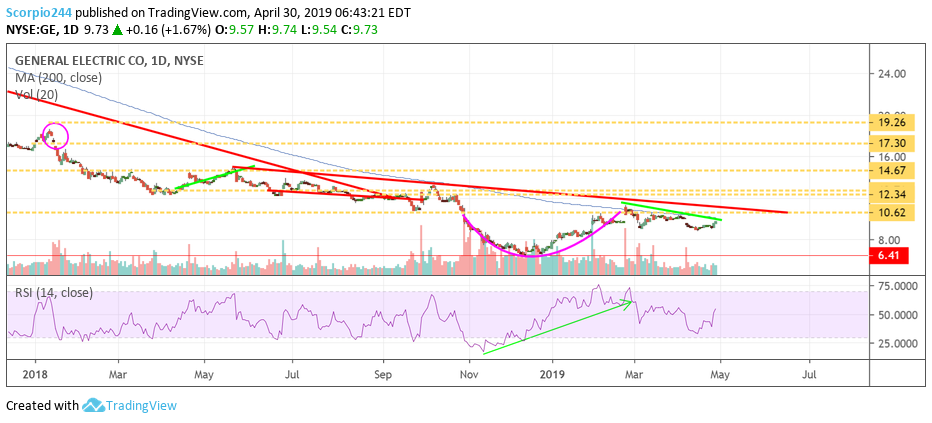 GE
Merck KGaA ADR (OTC:MKKGY) and Pfizer (NYSE:PFE) are rising this morning after reporting better than expected results.
Merck (MRK)
Merck has a resistance level at $79.15, and then again at $81.30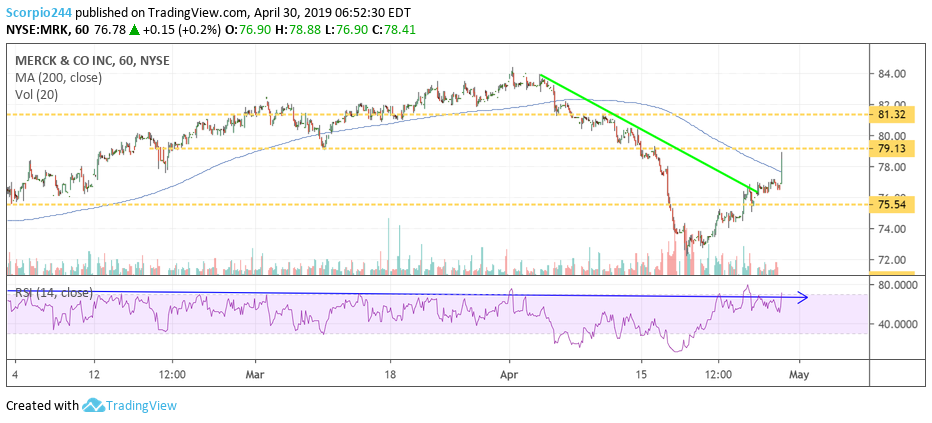 Merck, mrk
Pfizer (PFE)
Pfizer's next level of resistance doesn't come until $42.25.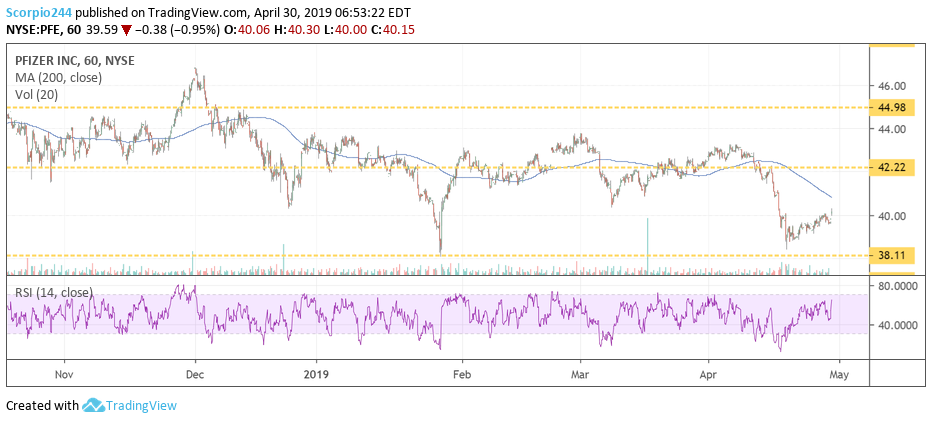 pfizer, pfe
Don't forget Advanced Micro Devices Inc (NASDAQ:AMD) and Apple (NASDAQ:AAPL) tonight.