Year to date trading has been in line with management's expectations, which are also unchanged for the year as a whole. Forward momentum in the important Commercial division is continuing and we see other noted actions as positive, logical moves. Investor sentiment appears to have waned since the FY19 results announcement, but the investment case is gradually strengthening in our view and from a single-digit P/E base.

Renewi Revenue
Commercial progressing
Price increases put through in the Netherlands and Belgium at the beginning of the calendar year together with incremental merger synergy benefits are sustaining forward momentum in the Commercial division. Tight incinerator capacity in these markets is likely to be exacerbated by a partial six-month shutdown at AEB; as a consequence there may be potential wider pricing implications over this period but existing contractual positions provide Renewi (LON:RWI) operations with some protection against this. Elsewhere, there is no further material update at this stage on ATM (the ongoing Hazardous Waste business) from a regulatory perspective, but the development of alternative markets for separated/graded components of remediated soil are ongoing.
Portfolio re-shaping and Green financing
The proposed sale of Canada Municipal operations was previously announced (on 17 June, expected completion by the end of H120) as was the expected repayment of EUR100m retail bonds maturing this month, effectively replaced by Green funding alternatives (ie EUR25m Green EU private placement notes in December and a EUR75m Green Belgian bond more recently). During H120 to date, Renewi has also made two small strategic in-fill investments in complementary waste processors in the Netherlands (ie 100% of Rotie Organics and 32% of RetourMatras, values not disclosed), which have natural fits with existing operations. The Canadian disposal may be seen as the most significant by investors, but these actions collectively suggest a proactive business enhancement agenda is being implemented.
Valuation: Compressed rating, attractive yield
In the seven weeks since the FY19 results announcement (on 23 May), Renewi's share price has slipped back by c 26%. We consider this to be at odds with the unchanged estimates messaging at that time (and retained now) and the positive steps being taken since. On our expected and unchanged trough earnings in the current year, the company is trading on a 6.4x P/E and a 4.5x EV/EBITDA (adjusted for pension cash). These metrics compress further to 4.1x and 3.7x by FY22 on our estimates). Moreover, the prospective FY20 dividend yield – based on an unchanged payout expectation – is now 5.6%.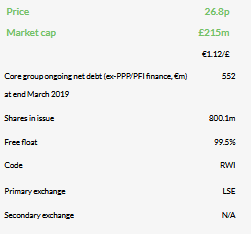 Valuation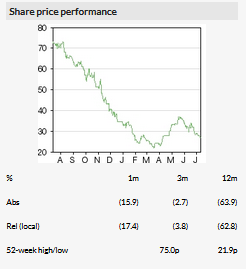 Share Price Performance
Business description
Renewi is a waste-to-product company with operations primarily in the Netherlands, Belgium and the UK, and was formed from the merger between Shanks Group and Van Gansewinkel Group in 2017. Its activities span the collection, processing and resale of industrial, hazardous and municipal waste.
Financial Summary