It's becoming tough to pick a winner from the group of powerful U.S. technology stocks known as FAANG. The search-engine giant, Alphabet Inc Class A (NASDAQ:GOOGL), is one such stock whose future is getting cloudier as it faces one of the most intense antitrust probes of our times.
On Monday, the attorneys general of 48 U.S. states, the District of Columbia and Puerto Rico announced an antitrust investigation into Google (NASDAQ:GOOGL) parent company Alphabet. The joint effort by top U.S lawyers is in addition to investigations being pursued by the U.S. Department of Justice, the Federal Trade Commission, U.S. congressional committees and Europe's anti-monopoly authority — all aiming to find out whether Alphabet and other tech giants are using their massive digital footprint to kill competition, or failing to provide their users the products and services they deserve.
This is not the first time Google is facing antitrust investigations. It dealt with a long federal antitrust inquiry that ended in 2013 without a significant damage to the company. This time, however, the size and scope of these probes is big enough to create panic among investors and uncertainty for its shares.
The question for investors is whether they should continue to focus on the company's business fundamentals or start taking into account a potential adverse outcome of these probes, which could take years to complete.
If you look at the performance of Google this year (+18%), it's been a laggard when compared to Amazon.com Inc (NASDAQ:AMZN) (+23%), Microsoft Corporation (NASDAQ:MSFT) (+35%), and Facebook Inc (NASDAQ:FB) (+43%). Some bulls are advising investors to take advantage of this weakness because Google is "undervalued" and they will catch up soon. Indeed, the shares rose for three straight days this week, to close at $1234.97 yesterday.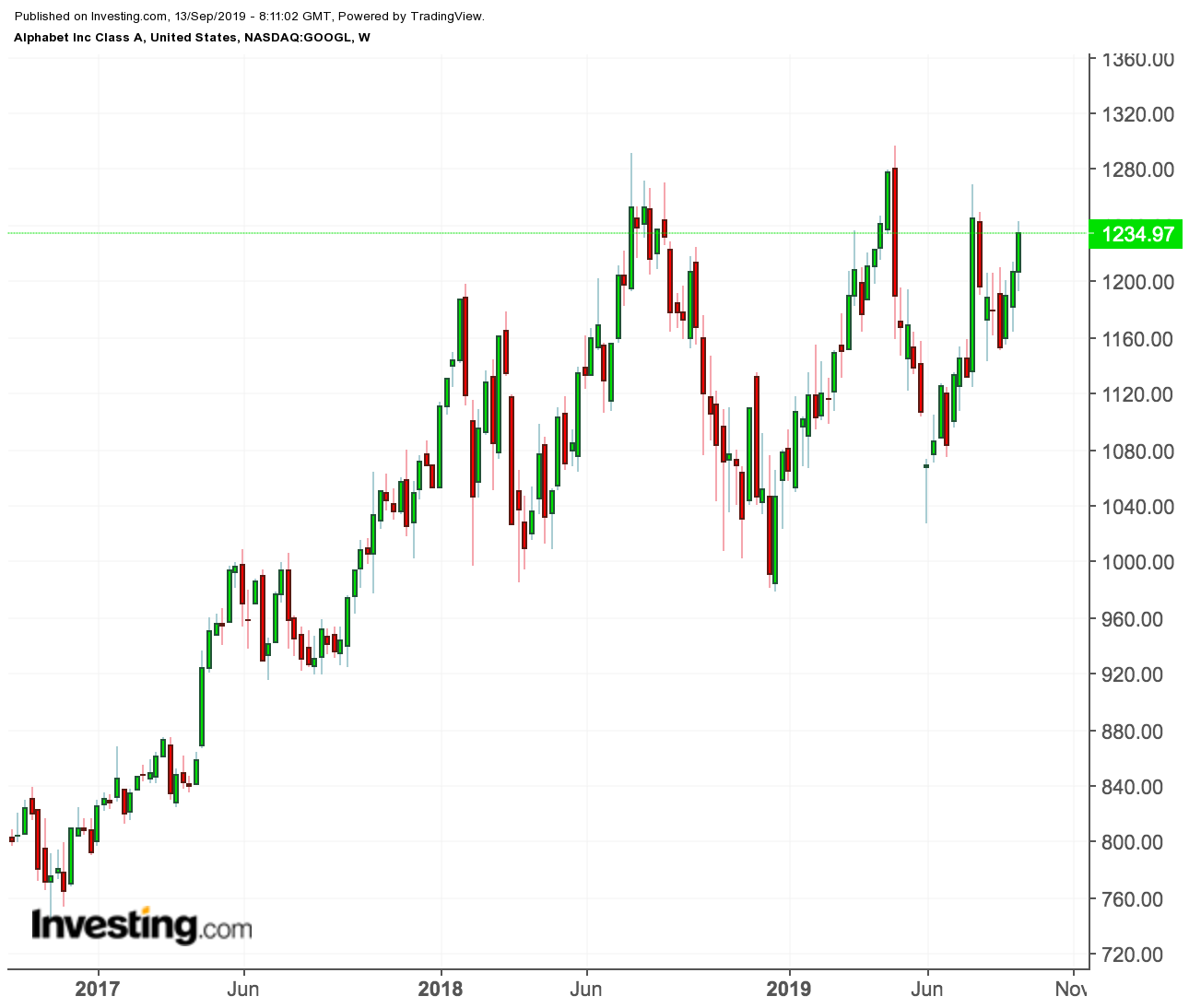 Google price chart
According to analysts at Jefferies, Google's valuation "reflects pessimism" as investors worry about a recent slowdown in advertising revenue growth, competitive losses to Amazon and Facebook, and heightened regulatory overhang.
"We remain positive on Google on attractive valuation and a portfolio of assets waiting to be unlocked," said Jefferies technology analyst Brent Thill, pointing to the company's new ventures.
In our view, Google is a company with a strong moat that is almost impossible to challenge. More than 90% of all internet searches take place through Google and its company subsidiary YouTube. Everyday, Google processes 3.5 billion searches that make its platform the most valuable for advertisers.
That means companies have little choice but to advertise on Google's platform. Because of its huge internet presence, the mammoth search engine dominates the digital advertising market with a 40% control of the market globally.
It's almost impossible to predict the outcome of these regulatory probes and their impact on Google business, but if history offers any clue, such probes usually end up with a large fine, and impose changes to the company's internal practices. Google has dealt with both in Europe recently, without losing its market share there.
The company, with its strong financial muscles, is at the forefront of new technology innovations that will fuel future growth and could help diversify its revenue away from ad business. In particular, self-driving car technology presents the greatest opportunity of all for Alphabet.
According to UBS, the self-driving car market will touch $2.8 trillion by 2030, and Alphabet venture Waymo has the potential to capture a 30% share in this market. Home automation, cloud computing and artificial intelligence are other areas where Alphabet is spending aggressively to become the market leader.
Bottom Line
Google has the financial power and future growth strategy to deal with any upcoming challenges from regulatory actions and increased competition. The noise created by the latest antitrust probes, in our view, shouldn't detract investors from what Google has to offer. With its traditional growth drivers remaining unchallenged and the company positioning itself to grab a major share of new growth areas, it's a no-brainer to stick with your Alphabet holdings.