A major shot of cold is headed to several parts of the United States in the coming days. The question is whether it'll even be enough to partially lift natural gas prices from the doldrums of the past four weeks.
One Big Red Blot For Gas Prices This Year
Gas had a roller coaster ride in 2018, with futures on the New York Mercantile Exchange's Henry Hub reaching a near five-year high of $4.93 by November before closing the year at $2.94. From an annual gain of 60% at one point, the market ended just slightly in the negative.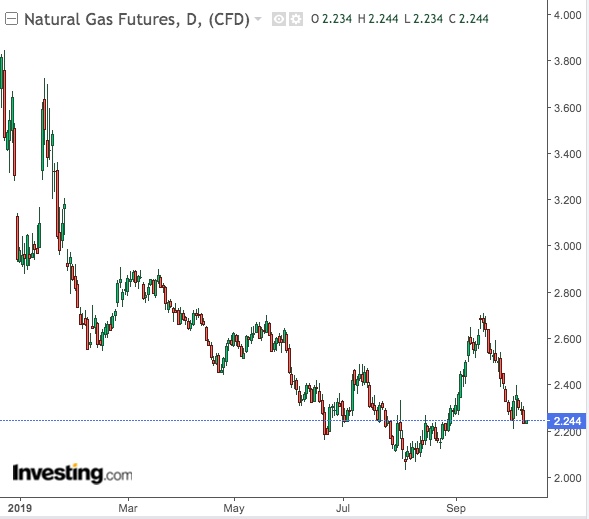 Natural Gas Daily Chart – Powered by TradingView
As for this year, it has been one huge red blot for gas futures, with only two months–August and September–in the positive, and even then up no more than 2% each. Year-to-date, the market is down nearly 24%, making natural gas the worst performer among commodities.
At Wednesday's settlement, Henry Hub's front-month gas contract, November, settled at $2.234 per million British thermal units. Investing.com's Daily Technical Outlook has a "Strong Sell" on November, projecting a bottom as low as $2.132 per mmBtu.
With the official start to winter at least two months away, bets have been oscillating as to when real cold weather will kick in to throw a lifeline to market longs who had been brave enough to buck the trend.
More Demand Greatly Needed As Storage Levels Surge
The commodity critically needs a pick up in demand too, as storage additions in the fuel have been in the three digits for the past two weeks, after continued builds since April.
Analysts tracked by Investing.com have a forecast a storage expansion of 97 billion cubic feet for last week, in data due from the U.S. Energy Information Administration on Thursday. Some traders, however, think the inventory build will be similar to the previous week's 112 bcf.
Dominick Chirichella, director of risk and trading at the Energy Management Institute in New York, said that storage aside, the coming days will be a test for the market when temperatures fall below the season's normal.
Some Cold Weather Coming, But Will It Be Enough?
Said Chirichella:
"A major shot of cold weather will impact the West and Central U.S. over the next two to seven days."
"Below normal temperatures should occur across the Northwest, especially the interior, but anomalies won't be significant."
Chirichella also acknowledged that the cold patch will not be hitting the key Northeast region, where the largest burning of gas for heat takes place.
Risk Of More Price Weakness Ahead
Dan Myers, analyst at Houston-based gas consultancy Gelber & Associates, said even if Thursday's storage numbers come in below market expectations, "there is risk that the market may stumble when it looks to upcoming bearish injections in its wake".
Myers also cast the ball further ahead, pointing to forecasts for continuously lower gas prices in 2020–despite favorable production by next year forecast by the EIA's Short-Term Energy Outlook–versus current record highs.
Scott Shelton, energy futures broker at ICAP in Durham, North Carolina, who has an upward bias toward gas, admitted to some of these bearish themes in a note issued on Wednesday.
Shelton's point basically was that Commodity Trading Advisors, which included hedge funds bearish on gas, had the market under their control:
"In terms of flat price, it seems listless here, which is in line with the idea that we know what the end-October level is going to be, but we don't know what the weather is going to be."
"I think NatGas is going to be noise-driven from here with a slight negative bias, due to the CTAS possibly selling more."